ETHNOGRAPHIC AND WATER MUSEUM - via Roma 23, Albese con Cassano CO
January 25 - February 23, 2020

Solo exhibition

Acqua. Emilio Alberti and the Ethnographic and Water Museum. Unequivocal constraints and relationships. Water source of life. Origin and engine of existence. Liquid matter, symbol of fertility. In ancient cultures the source of all things. "If there is magic on this planet, it is contained into the water." (Loren Eiseley)
Emilio Alberti, artist who for years creates his works inspired by the liquid of life. In its various expressive forms, he creates compositions in which aquatic surfaces, imbued with light, seem to be clustered in cosmic materials, or marked by uniform raindrops. Not less mysterious, the spiraling vortices appear to seem primordial caves that falls into the deepest abyss. Many artists, before him, have chosen the same theme in infinite variations. But the one who made it existential was certainly Monet. He himself wrote "The basic element is the body of water whose aspect changes every moment as the shreds of sky are reflected in it, giving it life and movement. To seize the fleeting moment, or at least the feeling it leaves ... when the play of light and color focuses on a fixed point, but water, being such a mobile and ever-changing subject ... a man can dedicate the whole life of a similar work ... " But defining Alberti as only a painter is an understatement. He is an all-round artist. Like his medieval and Renaissance ancestors who, since they were children, learned the "trade" in the workshops of established artists by experiencing everything (I will cite for all Cimabue and Giotto, Verrocchio and Leonardo) so Alberti is an experimenter of every technique: pictorial, graphic and sculptural, which he masters with absolute confidence.
The Ethnographic and Water Museum has proposed to host an artist linked to our territory who, over the years, has developed a passionate research on this theme and its symbolism. The results of his work have been appreciated in numerous exhibitions in Italy and abroad. And we, as Ethnographic and Water Museum, are proud to bring together objects and artifacts that tell the story of the water of this area with the works of an artist who knows how to transform it into visual poetry and emotions.
Salvatore Frapiccini
Director of the Ethnographic and Water Museum

In the spirit of the Museum, Emilio Alberti's exhibition is focused on water and the territory, with a symbolic dedication to the book by Benedetto Giovio "The fountains of the surroundings of Como. Carmi " from 1529, which appears in the exhibits.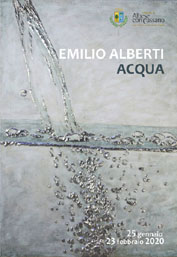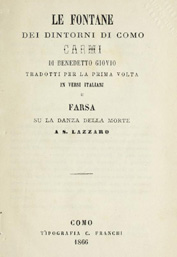 Artribune - Fb/events - Archivio Attivo Arte Contemporanea - Corriere di Como - ErbaNotizie - IlPuntoStampa - Arte Mostre eventi

---