Foggia 1995
In 1995 and ' 96 he made various installations in public spaces. In 1997 the Gallery Il Salotto of Como set up the show "TRACES". In 1998 he started a research on the interaction between music, visual art and environment, creating the sound-visual "SECRET PLACES" with the musician M.Mora.
In 2000 he exposed at La Fenice Gallery in Lugano, Switzerland. He found "ARTEMI art project", an interdisciplinary project joining experimentation and research in the field of design and applied arts.
In 2005 he was invited at Ankara BIENNALE, Turkey and at ArtCard, at Art Museum of Arab Emirates.
In 2006 he exhibited his research about water in "WATER GAMES" at Villa Imbonati, Cavallasca, Como. He keep on with the technique worked out for this series, based on stucco, oil colours, metal relief on canvas.
In 2008 the exhibition ?D?Acqua e Terra? at San Fedele Intelvi by Culture Councillorship of the Province of Como.
In 2009/10 "TERRE LIQUIDE", paintings and ceramics, at Il Salotto gallery , Como.
In 2011 "LIQUID WORLDS", retrospective by the Culture Councillorship of Como at the ex-church of San Pietro in Atrio. In December 2011 he realized the cover image for the magazine CID. Puplished by the Oxford University Press, USA.
In 2012 "PER MARI APERTI" at Villa Sormani, Mariano Comense (Como). Culture Councillorship. And "THE HOURS OF THE SUN" at Palazzo MILLEPINI, Asiago (Vicenza) by the National Institute of Astrophysics and Astronomical Observatory of Padua.
In 2013 "WATER", at Monastery of S. Maria del Lavello in Lecco, Italy, personal exhibition and cultural project in collaboration with artists of other disciplines. In the same year he exhibits the "LABYRINTHS" series at San Pelagio Castle in Padua, Italy, by the Museum of Flight. In October the exhibition "PROVA D'ARTISTA" multiples, ideas, objects, at Il Salotto Gallery, Como. The same gallery release at the end of the year the Artist's book "ACQUA".
In 2014 "Labyrinths - Metaphors of knowledge" in the City Library of Como , Italy, by Como Culture Councillorship.
In 2016, "WATER", with poetic speeches at Palazzo Ducale in Revere (Mantua).
Meanwhile, continues his research on the interaction between music, visual art and environment with "Events in Studio", in which invites musicians to interact with his works.
In 2017 "VERTIGO" in Como, Palazzo del Broletto, by the Culture Councillorship.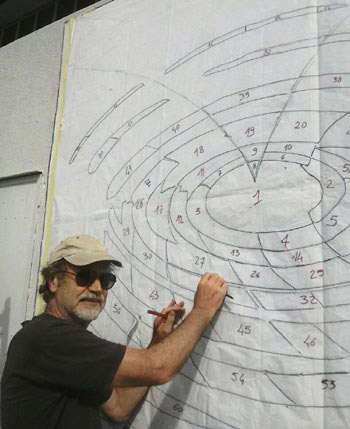 Dongo, Como Lake, May 2017
The same year was inaugurated his public work "PETUL", a large ceramic mural on the lakeside of Dongo, Como Lake.He also creates the installation of environmental art "PASSAGE" in Milan along the Martesana Canal.
He won the Premio COMEL Contemporary Art Prize Audience Award.
In 2018 in Dongo was commissioned another wall mural "FLIGHT", a flight of doves symbol of peace near the place where Mussolini was arrested and the fascist leaders was shot in 1945.
In june the solo exhibition "AFTER THE STORM" at Spazio Comel, Latina.
From August to November the Extrafid ART Foundation sets up in Lugano, Switzerland "EMILIO ALBERTI" paintings and Artist Books.